Investment account plays a very important role towards financial freedom in our life. Financial freedom is the status of having enough income to pay one's living expenses for the rest of one's life without having to be employed or dependent on others. We all WANT it but how many of us really COMMIT to achieve financial freedom. Now there is a vast difference between wanting something and showing commitment to something. Want is a wish, it may get fulfilled or may not get fulfilled. If doesn't get fulfilled it will not bother you much. Want definition is "have a desire to possess or do (something); wish for." And for Commit it goes like "pledge or bind (a person or an organization) to a certain course or policy."
Investment Commitment
Once you commit to something, all the trillion of body cells and all the neurons act to support you to achieve your goal. All this happens through power of subconscious mind. This is one of the main differentiating factor, which separate success and failure. People who are successful in any field, are not wishing but always committing to achieve their desired goals.
Now once you committed to your financial freedom, one important stepping stone in this journey is to have Investment Account. An investment account is basically an account in which we keep 10 % to 50 % of our net income only for investment purposes. When you are at a very early age, you can put maximum money in this account like when you are a earning bachelor, you can reduce the percentage when your other expenses increase. There is one statistic that goes like if your yearly income is Rs. 5 Lac, then to have Rs. 5 Lac in your pocket, you need to work for 10 years. It's multiple of 10 in all the professions unless you start investing your money as early stage as possible.
I am not suggesting any particular investment plan here, what I am suggesting is to keep a minimum 10 % of your net income aside only for investment. Remember, once you are focused on investment, you will surely do better for getting a good return on investment. If you are not having good knowledge on investment, gain that, learn that but for God sake do not 100 % depend on other for your investment.
Power of regular Investment
Let's take one example, assuming your net earnings is Rs. 35K per month i.e. yearly it is Rs. 4.2 Lacs.  and accordingly below are the different case scenarios with respect to your investment amount and also return on that investment.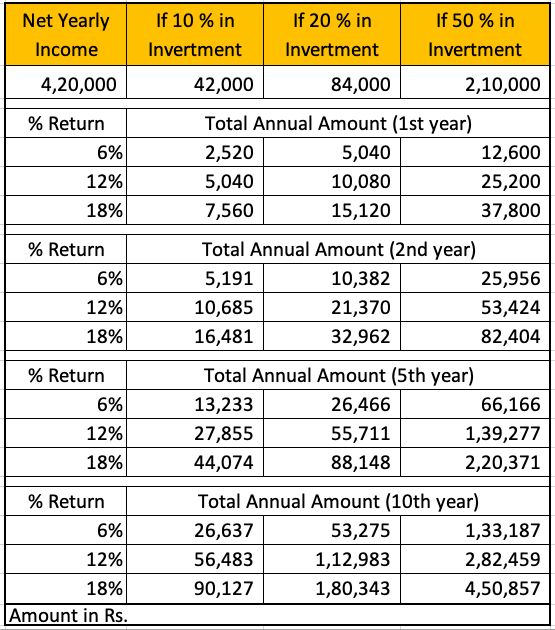 I have not considered an increment in your income and also at the same time not considered an inflation factor, i.e. if your earning is constant then also in 10th year your income from the investment is substantial. Even it's surpassing your net income of Rs 4.2 Lacs if you get an 18% return and continue to invest 50% of your net income (i.e. Rs 2.1 Lac) every year.
Now some of you might be thinking that an 18 % return is really very difficult, but I assure you that there are several investment programs such as real estate, in which there is a good chance that you can get even more than an 18 % return.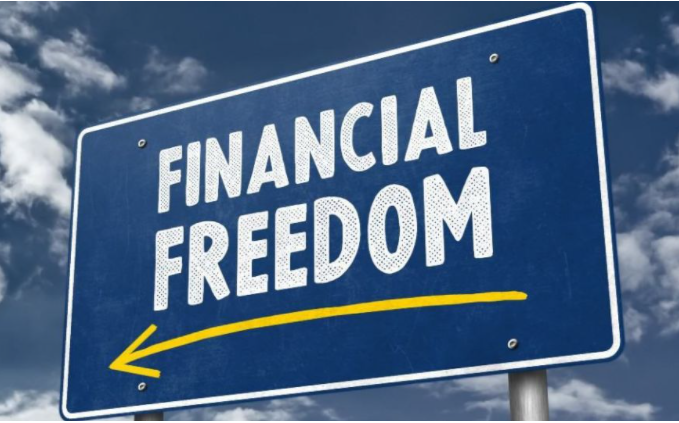 Create a Parallel you!
What will be your feeling by creating a parallel you (your investment money, which is earning for you)? Don't you feel excited, your money is earning money 24 X 7, without taking any type of leave, even working while you are sleeping. Are not feeling empowered when think that now you are not the only earning member in your family, a parallel you is also earning. When your intensity on investment is high and there are multiple sources of income, your wealth increases in a multifold way; even you can reduce this 10 year tenure to less. Think big & feel the abundance.
"Money is a terrible master but an excellent servant." –PT Barnum