Why we are financially like we are? In the world, there are three groups with respect to financial success (well-being),
10 % Population (Group-1, having maximum wealth)
20 % Population (Group-2, having moderate wealth)
70 % Population (Group-3, almost NIL wealth)
Guess what, the Minimum population group owns maximum wealth!!! And not only they own maximum wealth but maintain this legacy year on year generation after generation.
In fact, it happens in all three groups, they pass the almost a similar legacy to their generation!!!
Do you ever think what is the reason behind it?
This holds true at each and every location, be it a society, village, town, city, state, or country Less than 10 % of the people generally own more than 50 % of total assets combined.
The kids of the rich families generally do better financially compared to the other two groups, even though they may not be educationally smart. The same is the case of the other two groups, their kids generally do better but remain in that group only most of the time. Here we are not saying that people do not progress between groups by improving their financial condition, they do but that percent change (w.r.t. no. of person) is very less, probably less than 1 %.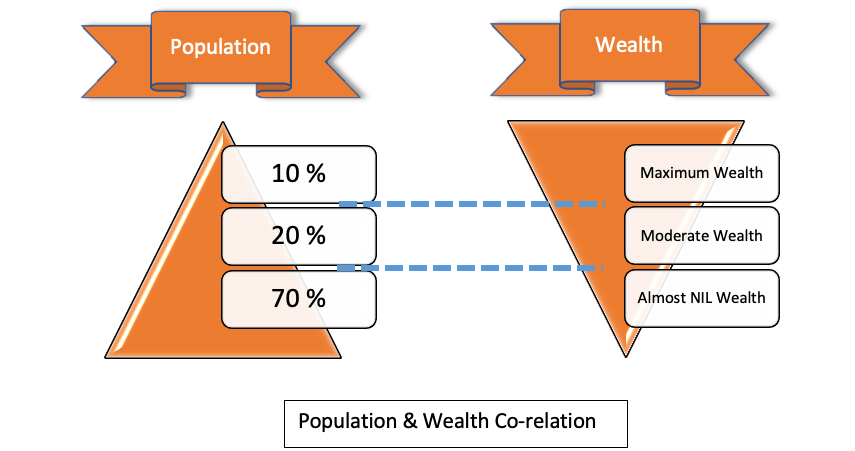 Why it's so, why people keep on remaining in the same group year on year? It's not they do not work hard, do not have the desire to come up from their current financial situation, but still after all the effort they remain in the same bracket. They take guidance from peers, family members, friends but gain no benefits. All these efforts go in vain.
Many a time middle bracket group think that I am smarter than the top bracket kid, I will earn more, they do earn more but only to compare with their parents but rarely more than the top bracket group. We determine to do hard work but hardly it turns to give us financial success. It's said that If Hard Work is the Key to Financial Success, then the worker engaged in making buildings might have been the wealthiest person in the world. We all know the result! People do not understand the real logic behind these financial situations. These situations are not the result of a few days' work.
People's Financial Condition
I have seen so many people like following, just somehow managing their financial life-
Very smart, intelligent in education but could not able to manage their finance
Started business to create fortune but could not get success
Got one-time fortune, lost it all in 1-5 years period
One more aspect is that we ignore our financial health, we many a time boast that Money is not a priority in my life. But is it true? It may be true for the people who are already having a good amount of money in their kitty.
We have done research on this topic, why people's financial condition remains the same? Is there any scientific reason behind this? If yes what is that? Do we have control over those reasons?
I am going to give answers to each of the above questions if you are ready to change your financial life. Are you willing or committing to improve your financial life? Why two almost similar words (WILL /COMMIT)? There is a huge difference between these two words, willingness is something we wish and commitment is something we devote our self.
It all makes a life-changing impact when one COMMIT something to happen in one's life. With commitment come to the body language / mental state/action of each cell of body/action of each neuron of mind.
As now we have committed to improve our financial life, so it's time to have answer to some of the basic question. Think like, why a financially successful family kid grow-up and manage the business later. Even though he/she may not be academically smart, but still they manage their business well. The root cause of Deep-Rooted Beliefs which are stored in their mind governs each aspect of their life including finances. They have seen their parents/ uncle /Aunties/Friend in financial abundance from birth.
Your beliefs become your thoughts Your thoughts become your words Your words become your actions Your actions become your habits Your habits become your values Your values become your destiny!!!- Mahatma Gandhi
Childhood Connection with Money
Young children carefully observe their environment and download the worldly wisdom offered by parents directly into their subconscious memory. As a result, their parents' behavior and beliefs become their own. The Deep-Rooted Beliefs (either with Financial Abundance or Financial Scarcity) govern our life. We hardly have any control over our lives, we try to understand this but lost hope in trying as we hardly get a positive outcome. This core answer, which is self-explanatory on why people remain in the same group year on year in spite of putting best effort.
Self Analysis
If the beliefs are dragging you down instead of lifting you up, resist the urge to go back on auto-pilot.  Instead, take a closer look at your self-sabotaging beliefs by asking yourself:
Do I still believe this to be true? If so, why? As you dig, you may find something in your past that offers clarity. For example, maybe you grew up in a home where your parents always struggled with money, so you believed "money is always tight." As an adult, you now earn a good living, but you still believe money is always in short supply, so you might spend it recklessly or go into debt needlessly.   Now that you see this, you can exchange the "money is always tight" belief for a more appropriate belief for who you are today: "I make a good living and I'm good at managing my finances." Remember: everyone acts from what they believe to be true. If you think money is always going to be tight, that is what you'll create for yourself in your life.
Am I willing to at least try to start affirming an opposite belief? For example, instead of continuing to affirm "My life is out of money always" start affirming "My life is full of abundance always" Repeat it over time and you will begin to feel a shift in your beliefs.  I know this step was super-important for me in helping me break up with some of my more deeply entrenched negative beliefs.
Could this belief come from a past event that I miss-assigned meaning to? Example: Any of your family member /relative/friends said something negative about money as Money does not grow on Tree; Money make people bad; You will not have good friends when you have money, Money should not be in your priority, Money cannot bring you happiness, etc. Any of such single sentences, which you start believing is sufficient enough to ensure you remain a broke lifetime.
To sum up, the good news is that once you identify a limiting belief, you can release it and even exchange it for a more self-expanding belief that will serve you better.