Value addition is one of the ultimate ways to improve an individual's financial life. If you are in the process of adding value to the life of others, then there is a good chance that your financial life will also be very good. I shall share few real examples of value addition here to understand the whole logic of wealth creation-
In India and probably in the whole world this brand same is very well known. The way Jio was launched in Sep 2016, was never seen before. Peoples were given free new SIM and even no charge for using these SIMs afterward for several months. The no. of subscribers connected from day one to till now is phenomenal & the journey is ON.
Now assume that Jio is providing SIM after filling the routine paper form with your complete detail, address, photo, signature as several locations in that form. Also document verification for almost more than a week time. Could it have been possible for Jio to connect these many numbers of users? Possible no. could have been achieved but the timeline might have been twice or trice or even more than comparing to the existing timeline.
What they did differently was the Ultimate Value Addition, these teams were issuing SIMs in few minutes (less than 10 minutes time) & that to ready to use SIMs. They are using an online Aadhaar Card and your finger scan for issuing the SIMs. You only need to tell your Aadhaar Card number that's all.

When Jio subscribers were zooming in numbers, I visited another service provider with one of my friend to get Mini SIM for his new mobile in place of his existing SIM. Surprisingly they asked to fill the form and other formality to even issue Mini-SIM. The point here is not to criticize or to praise any particular company, but to understand the power of value addition at one particular location in the value chain. Here that particular location was the SIM issuance system.

Along with this several other associated applications have been launched by Jio as JioTV, JioNews, etc. The impact of these associated applications (most of them are free) was such that hardly any subscriber return back to other service providers once opted for Jio. All these were the major reasons for Jio to come in profit in the 8th quarter (Q3, 2018) instead of experts prediction of 5-7 years. Now you can feel the real impact of these value addition.
Henry Ford installs the first moving assembly line for the mass production of an entire automobile in 1913. His innovation reduced the time it took to build a car from more than three weeks time to 90 minutes. Ford's Model T, introduced in 1908, was simple, sturdy, and relatively inexpensive–but not inexpensive enough for Ford. In order to lower the price of his cars, Ford figured, he would just have to find a way to build them more efficiently.
Ford had been trying to increase his factories' productivity for years. The workers who built his Model N cars (the Model T's predecessor) arranged the parts in a row on the floor, put the under-construction auto on skids, and dragged it down the line as they worked. Later, the streamlining process grew more sophisticated. Ford broke the Model T's assembly into 84 discrete steps, for example, and trained each of his workers to do just one.
The most significant piece of Ford's efficiency crusade was the assembly line. Inspired by the continuous-flow production methods used by flour mills, breweries, canneries, and industrial bakeries, along with the disassembly of animal carcasses in Chicago's meat-packing plants, Ford installed moving lines for bits and pieces of the manufacturing process: For instance, workers built motors and transmissions on rope-and-pulley–powered conveyor belts.
Question the Routine!
All the breakthrough happens, once people question the routine and focus on productivity improvement and cycle time reduction. There are several such improvements you can find out all-around. Even one of the biggest challenging problems of environmental pollution due to vehicles is having an impactful solution. Nowadays, there is a high-level buzz about Electrical Vehicles (EVs); be it two-wheeler, three-wheeler, or four-wheeler.
After few years Diesel and Petrol vehicles will be history. Almost all automobile companies have either launched or in the process of launching their EVs. For EV, there was a myth that speed is slow but that myth is busted after several launches of supercars from various companies, one of them is Tesla. Its Roadster model claimed 0 to 400 m (0 to 1⁄4 mile) time will be under 9 seconds, with a top speed above 400 km/h (250 mph). This company has completely changed the automobile sector especially cars.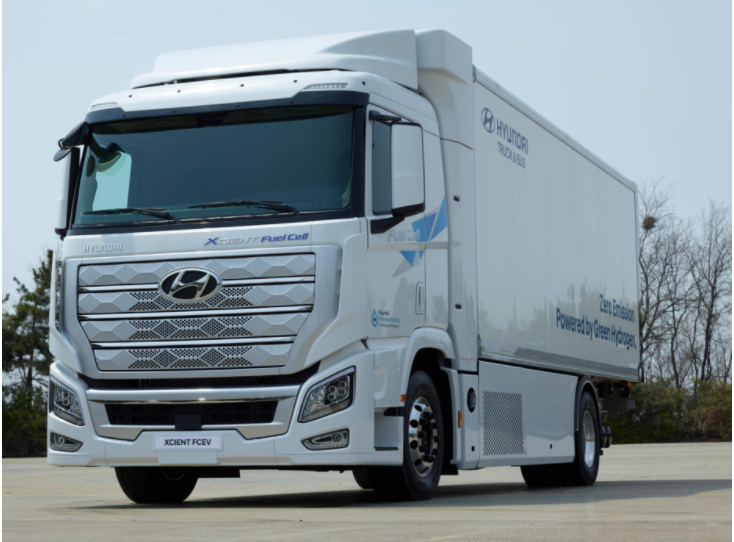 Now for heavy vehicles, we generally think that diesel is the only option, but it's also changing at a fast pace. South Korean carmaker Hyundai in Oct 2020 presented the first seven hydrogen-powered trucks to customers in Switzerland, out of 50 such vehicles scheduled this year to bring zero-emission commercial vehicles to European roads.
For the long haul, proponents say hydrogen-powered trucks have an advantage over electric rivals as they have a greater range and require less charging times but their uptake and mass production has been slow because they are expensive.
Hyundai has announced plans to sell hydrogen fuel cell-powered trucks in the United States by 2022 & sells a target of 500,000 units in 2030. Hyundai is following a two-track strategy of going for battery-electric technology for passenger cars and utilizing hydrogen fuel cell technology for large commercial vehicles.
The aim is to ramp up its annual hydrogen vehicle production from 11,000 units in 2020 to 40,000 units in 2022, 130,000 units in 2025, and 500,000 units in 2030.
In the coming time, there will be several highly valuable companies producing outstanding products. Sectors may be like an affordable house (Quick make and Safe), Health tracking of an individual, Online education in all in any of specialized field.
And it can also be living on other planets or having a universe trip. There are several top-notch companies (SpaceX, Blue Origin, Virgin Galactic, etc.) working on this project, changing false beliefs will also be easy for people with the help of new technology.
So all I am saying that a lot of movement is going on all around us for human growth, society growth, now we need to find out our spot in this value addition journey.
"Every success story is a tale of constant adaptation, revision and change." –Richard Branson