Debt trap! Is it not a fearful word? Most of us live a financial life in which we are just few week or few month away from being broke. There are several examples like If we didn't get next business deal, if we lose our job, if we miss next endorsement contract as a celebrity we are going to be broke.
We focus on earning but in parallel our expenditure are increases. When our expenditure are more than the income, what is the outcome; to borrow from someone to fill the gap e.g. if your monthly income is Rs. 30,000 and expenditure for the month is Rs. 35,000, then you need to borrow the differential  amount of Rs. 5,000 to manage the things.
We manage this situation for few month, then this pattern become a part of our subconscious mind i.e. mind register one pattern of financial deficit and all the emotion associated with it. As subconscious mind is neutral, it doesn't understand positive emotion or negative emotion. Any way when we are in debt, can we have positive emotions, hardly; most of the time we have negative emotions.

Now this is something interesting, suppose in one particular month your earning is more than your expenditure and you are having surplus money. In this situation your subconscious mind will suggest you something like buying additional stuff, or some mean to spend your surplus or even more than surplus.
Why does it do so? Because it want to give you same feeling which you are experiencing every month. It's true, how many time we fall in the trap of credit card buying. We buy something using credit card, why are we using credit card, to earn point or we are not having money in our account but we want that particular thing immediately.
We get extra time to pay on credit card purchase. If amount is more then we prefer to convert that amount in EMI or at the time of purchase only we ask seller to convert our credit card purchase in to EMI.
If you do this once or twice, there are good chance that when you are near to your last payment of EMI, some other thing will pop-up to purchase in similar pattern and other EMI will start e.g. we buy big screen TV from discounted sell on credit card .
EMI Trap Continue!
Now in the last two EMI payments, there might be a demand of new fridge or mobile or holiday package which is also with additional advantage if we buy through credit card.
As we are not able to pay the full amount on due date (in world more than 70 % people doesn't pay credit card payment on due date), then we ask to convert that purchase in EMI. So EMI trap continue.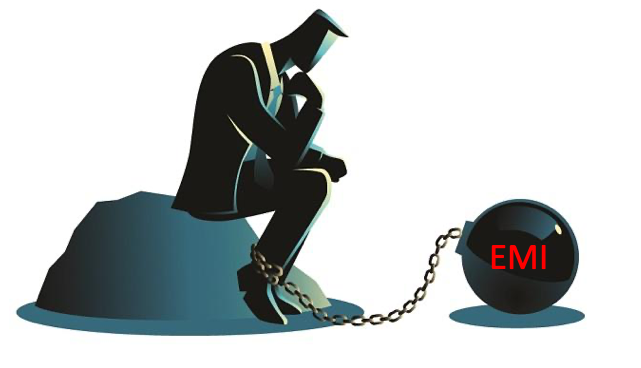 Here by no mean I am saying that we should not buy things on credit card, I am saying that we should not fall in trap on EMIs as it hardly end.
We become habitual of this trap and many a time pay hefty interest charges in-between while conversion of purchase in EMI or not paying the full amount on due date.
Debt & Your Life Time!
People does not realise that they spend more than 50% of their lifetime to pay debt. If you bought Rs. 30,000 TV by borrowing money and if your net income is also Rs.30000, then logically you have booked 26 days (Working day in month) x 08 hours (Working hours per day)=208 hours of your life for this TV payment.
Again, I no mean saying that you should not buy TV, what I am saying is that buy when you have money with cash or debit card. We must give focus on our earning and constantly improve the means. But we become Red-Faced child, who need the toy (things) right now, so we do better deals but with credit card and become happy with earned points on that purchase.
We are so much used to listen to peoples around us and also from Banks that we cannot even imagine buying Rs 30,000 component with Cash. When we buy item on cash, we can ask for good discount.
Time and again one things is coming out is that we get reflection of what we keep in our mind most of the time. If all the time dept is there, we shall get the situations to support this thought as this is controlled by your beliefs and your subconscious mind.
Own Painful Experience
I have personally gone through this pain for more than one year.  Short of some amount almost every month then I borrowed money from my friend or relatives. Then I changed this cycle after applying principles from one book on subject. As I was only one month away to debt free life, so I changed my thought process. I had managed for one month, then for complete year and till now.
One thing I realise during my transition is that, most of the people are not having financial knowledge and really doesn't want to discuss those financial matters with anyone. So from where wisdom come to rescue us unless otherwise we have financially smart friends/relative from whom we can learn or read good literature on this subject. If we train our mind to take good care while dealing with finance, it does. Whatever we focus on, It expand, so does it happens in our financial condition also.
Wayahead Discipline (Investment)!
Many a time earning amount is not important, what is more important is discipline to spend the money in a more logical way, investing it regularly. Preferring investing over Spending i.e. when we receive or salary, payment investment should have priority over spending. Once we set investment pattern, our mind support our each movement. Remember, at this time don't keep fear of losing in mind all the time, if this thought sink in your subconscious mind, there are good chance that you will lose your money. So always have wealth/money abundance thoughts.
:Thought:
"A scarcity mindset can cause you to limit yourself through your beliefs and actions, preventing you from achieving your biggest goals, keeping you in debt, or destroying your confidence."- Anonymous